The Rev-Up Combo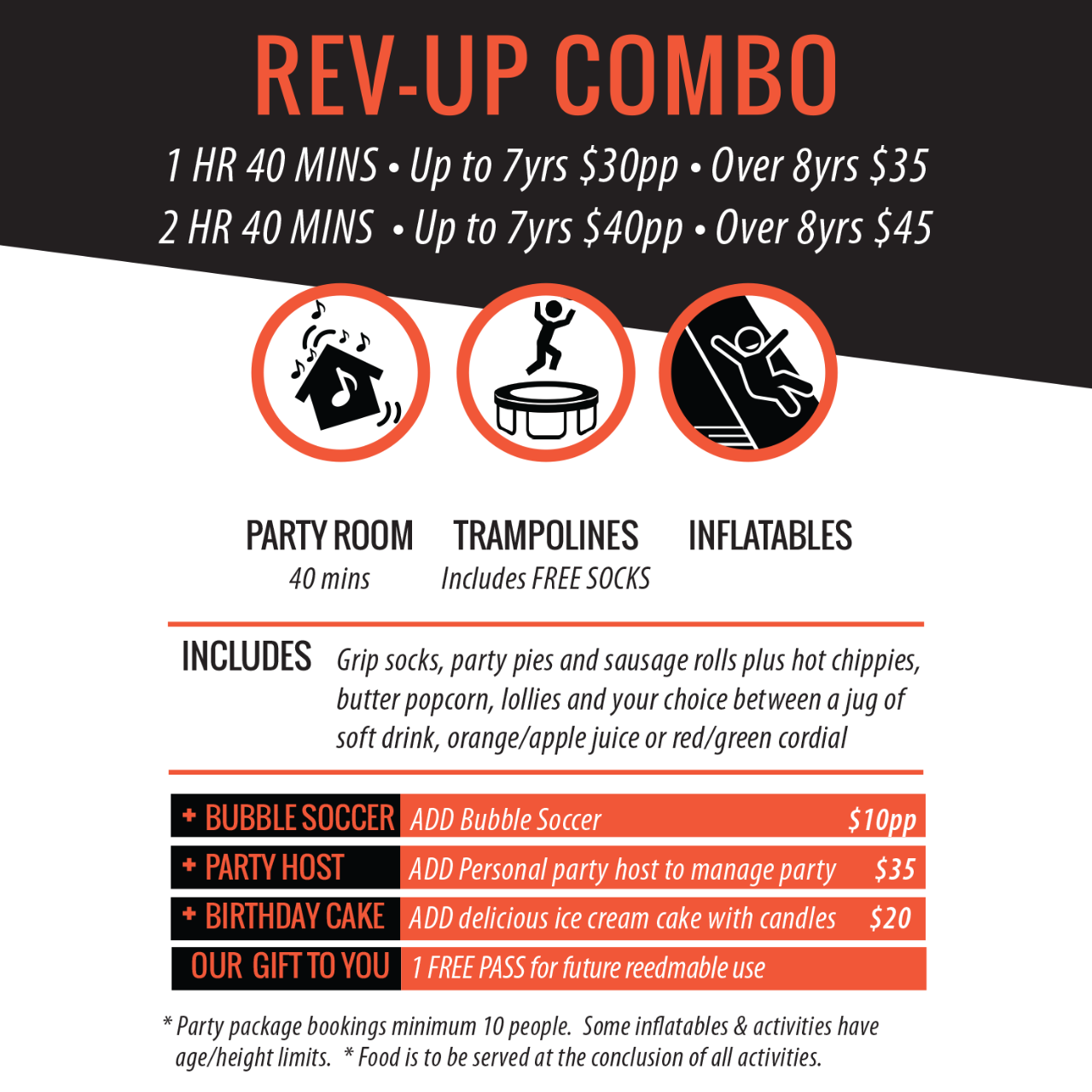 Duration: 100 Minutes (approx.)
Location: Maryville, NSW
Product code: P8WV3N
The Rev-Up Package - 1 OR 2 Hour Activities, 40 Minutes inside party room.
1 Free pass for the birthday child to be redeemed AFTER the party.
Grip Socks included for each participant.
Minimum 10 people.
Under 7 - From $30 PP
8 & Over - From $35 PP

For Parties that are only 1 hour the option to push the party forward 1 hour is available. That means that for a 9AM booking with 1 hour activities the party is allowed to start at 10AM and have the food served at 11AM.


7 & Under will be limited to certain areas of the park for their own safety.
8 & Over have full access within the areas that have been paid for under the party and are priced at +$5.
We only recommend having a party host for ages under 8.

This party package gives 1 hour or 2 hours unlimited access to the trampoline park & inflatable field.
Bubble Soccer can be added for +$10.00

For any questions please contact us on 4969 1670 or e-mail us at parties@revolutionpark.com.au

--


Please have a read through the following:
There is nothing additional given to these parties other than what is mentioned in the party packages. If it is not explicitly in writing it should not be assumed that you are receiving something additional to what is mentioned in our party package.
For deposits of 50% taken over the phone the full balance must be paid at reception prior to any wristbands being handed out for activities. Also if more participants that what is paid for turn up on the day the balance must be settled prior to wristbands being handed out.
The REV-UP package by default comes with 1 hour access to the Trampoline Park & Inflatable Field. Unless it is specifically selected and paid for the party will not have access to the Bubble Soccer Arena. The activities by default are only 1 hour but can be extended to 2 hours for an additional $10.00
The FREE PASS for the birthday child is only redeemable for future use after the party has concluded and only provides access to the trampoline park section of our business.
By default no party host is included in this party package however staff supervisors are placed on the arenas. If you have completed the booking without selecting a party host but would like one please contact us immediately.
All activities must be concluded prior to eating food.

If you have a bubble soccer game attached to your party we will schedule it for you on the day and let you know the time of the game prior to handing out wristbands. The party must be ready to play at the allocated time.
It is recommended to advise all participants to arrive 15 minutes prior to the party start to get processed at reception, receive wristbands and socks so there is no delay in the activities.
Once the allocated time of 1h 40 minutes or 2h 40 minutes is up, customers must clear out of the party rooms immediately to make room for our staff to clean and prepare the tables for the next party.
Party packages require a minimum of 10 to book. If less than 10 participants turn up on the day you will not receive a refund.
Participants that are over 120cm or over the age of 8 that have been priced as an under 7 will need to be rectified at reception on the day.
If any special requirements are necessary please give us as much notice by contacting us on our dedicated party line 0450072293.
For any party enquiries please contact us on 0450 072 293.
You can also e-mail us at parties@revolutionpark.com.au